Greetings Fellow Book Dragons!
This is a weekly meme within the book community that was created by Lainey of GingerReadsLainey, but is now hosted by Sam of Thoughts on Tomes.  If you're interested in participating, find out more on the Goodreads group!
This week's topic is Favorite Non-Canon Ships ("ship" is short for romantic relationship)!  These are the couples you love, but they never got together in canon (canon meaning – what actually happened in the text).  Or the couples that did get together, but weren't together in the end of the series.  Or a couple you ship, but it's actually impossible for them to be together because they are from different worlds, franchises, etc.  Let your shipper heart run wild.  I know mine will!  So here are my selections in no particular order.
1.  Lara Jean and John Ambrose McClaren from P.S. I Still Love You by Jenni Han
John Ambrose McClaren is everything you wanted in a relationship with a teenage boy.  He's so adorable, he's intelligent, and he pays attention.  And then there was that magical evening at the senior center that was hosting a 1940's USO dance!  He's not even bitter that Laura Jean decides to pursue her feelings for Peter.  He just says, "I don't think it was our time then.  I guess it isn't now, either.  But one day maybe it will be." 
I'm just going to go swoon for a while and hope that the final installment finds that it is the right time for them.
Photo credit:  introvertedbookworm24.com
He was only looking for someone to hang out with and he ended up helping her to drive again!  Plus the topiary owl he made for her.  If only Amy had continued her road trip with him.
One aspect of this book that makes it so great is there are no romantic relationships.  The main character, Nancy, is an asexual teenage girl, so for this couple I would have just simply loved to see the friendship between these two grow as the years passed until eventually they were both in charge of the school.  I know they needed their worlds back, but I wish they could have needed each other just as much.  
4.  Jon Snow and Daenerys Targaryen from the A Song of Ice and Fire series by George R. R. Martin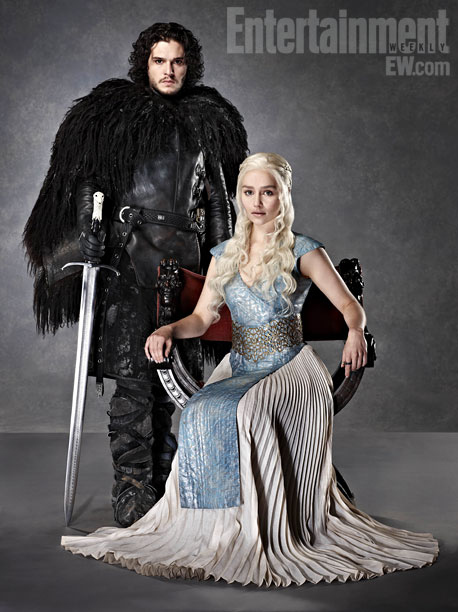 I want these two to meet, discover they are truly each other's equal, and unite to break the wheel in Westeros, ushering in an era of great progress and growth.  But wait…who am I kidding, there are no happy endings in this world.
And now for something that truly makes my fan girl heart flutter…
So while I would love to see Dany and Jon end up happily ever after, I also subscribe to a totally different theory that suggests perhaps Sansa is a fictional representation of Queen Elizabeth and should this unlikely underdog take the throne, her reign would be marked with prosperity and growth as seen through positive historical occurrences such as the Renaissance and the Enlightenment.  But because of her experiences with men, she might assume the Virgin Queen approach that Elizabeth was also known for.  Both book and show Sansa have endured instances of horrific abuse at the hands of powerful men with show Sansa bearing the brunt of such extreme victimization.  From the very beginning, Sansa believed in chivalry and honor and was very naive to what love meant in the world that is Westeros.  I think anyone who has read or watched the show can remember that feeling in the pit of your stomach when we learned right along with Sansa that Joffrey was not who she thought him to be.  But in my fan girl heart, I still hope that she does find her Prince Charming, which I believe for her would be Rhysand.  And if you've read
A Court of Mist and Fury
you know why!  He's the embodiment of everything she dreamed for herself:  a super attractive warrior who places his mate on equal footing with himself, High Lord of the Night Court, and  is deeply loyal and committed to the bond they share.  I can imagine him swooping in with those glorious wings, not to save her, but uniting right alongside her to prove that good men do exist, proclaiming, "To the stars that listen – and the dreams that are answered."  
Okay, I think I've composed myself!  So those are my favorite Non-Canon Ships!  What couples do you wish were together?  Let me know in the comments!