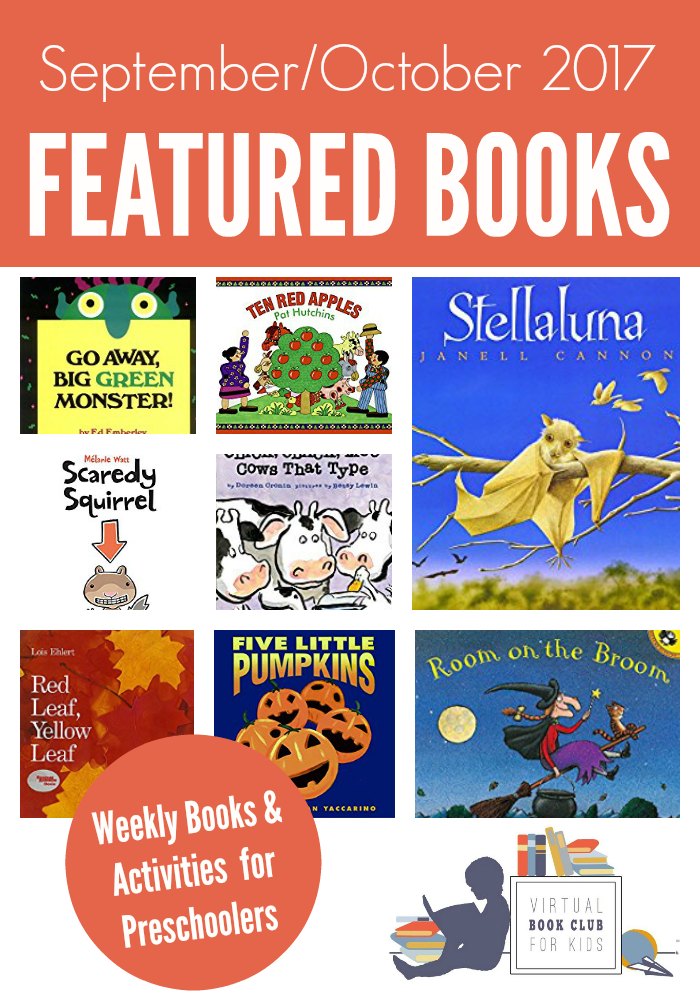 Greetings Friends!

It's been a little while since my last post due to spending some time with my family to prepare and welcome our newest little one, Jillian!


Things have been a bit chaotic and stressful as we all learn new routines and I try to figure out how to manage how outnumbered I am right now!
But what better way to start blogging again than by announcing the book selections for this year's Weekly Virtual Book Club for Kids!  Last year, the boys and I participated in this book club, which I documented in a post each week on the blog until finding out I was pregnant and couldn't function anymore!  Well, it's that time of year again and sleep deprivation is fooling me into believing that  I have lots of motivation to participate with the boys again this year!

This book club is specially designed for preschool (2-5) kids and will feature a new book with a coordinating theme each week during the 2017-2018 school year.  Hosted by Toddler Approved, The Educators' Spin On It, and Rainy Day Mum, there will also be additional co-hosts that will provide links to many activity ideas.  Join the Facebook group to see the activities that will announced for that week every Monday as well as share what you're doing, get more ideas, or just simply connect with others.
The primary goal is to read the featured book and do at least one activity during the week, but you decide what works for you and your children.  I try to do one activity a day, but even that can sometimes be too much when dealing with a headstrong preschooler, a mobile toddler, and now a newborn!
Maddox started half day PreK this year, so while he's out, I'm working on a homeschool Tot program with Jackson, my almost 2 year old.  My plan is to use this book club with them during the afternoons when Maddox gets home from school.  I will have a separate post up to discuss the Tot School program for those that may be interested.
So let's get to the books!  You can also print out the list for easier reference HERE.

September 18 – Leaves with Red Leaf, Yellow Leaf by Lois Ehlert



September 25 – Squirrels and Acorns with Scaredy Squirrel by Melanie Watt



October 2 – Farms with Click, Clack, Moo:  Cows that Type by Doreen Cronin



October 9 – Monsters with Go Away Big Green Monster! by Ed Emberley



October 16 – Pumpkins with Five Little Pumpkins by Dan Yaccarino



October 23 – Witches and Potions with Room on the Broom by Julie Donaldson



October 30 – Bats with Stellaluna by Janell Cannon



I really hope that you can join us to share these great book selections with your children and try an activity or two!  And definitely please share pictures or your own blog posts if you do participate!