Haunted Bluffs Mystery Series, #2

Genre: Mystery (with elements of paranormal and whispers of romance)
Publisher:  Crooked Lane Books
Date of Publication: November 12, 2019
Number of Pages: 312


A deadly storm, a missing three-year-old child, a suspicious death, and the eerie presence of the spirits of the dead set the stage for the second mesmerizing installment of Loretta Marion's paranormal suspense series.
A powerful storm descends upon Cape Cod's Whale Rock at the peak of tourist season–and the weekend Cassandra Mitchell's and Daniel Benjamin's wedding is set to take place at The Bluffs, the magnificent Victorian mansion Cassie inherited from her family. In the wake of the storm's destruction, three-year-old Lucas Kleister goes missing–and the body of small-time drug dealer Lee Chambers is found in a restaurant dumpster. Now, the WRPD are faced with a murder to solve, a missing child to find, and the aftermath of one of the worst storms in recent memory.
While aiding with the clean-up and helping the displaced, Cassie has been receiving cryptic messages from the spirits of her great-grandparents, Percy and Celeste Mitchell, the original residents of The Bluffs. At first, the messages are benign, but soon, they begin to point to something more sinister. As Cassie works to decipher their meaning, the specter of a mysterious local legend surfaces. The tale of Barnacle Boy–and what happened to him during another destructive storm decades earlier–will weave through the desperate search to find Lucas and the identity of a killer.
"Modern and historic mysteries collide in Marion's bittersweet storytelling." 
 – 
Kirkus Reviews
"[A] gripping sequel…Marion seamlessly weaves the multiple story threads together. Fans of tales of regional intrigue will be satisfied." 
– 
Publishers Weekly
I received a copy of this book for free, but also purchased a digital version. This is my honest and thoughtful review.
After spending an enchanting adventure on Cape Cod within the pages of the first book, HOUSE OF ASHES, I certainly looked forward to returning to the coast. Once again, this is a beautifully written and intensely atmospheric story that is very difficult to put down. There are a lot of moving pieces and characters, but well worth the investment to discover the secrets that have been woven into the history of so many families. 
The story unfolds from both past and present perspectives, which the author is able to seamlessly interweave to create a truly poignant and nuanced mystery. These multiple timelines added an engaging and complex layer that allows readers to fully appreciate each knot as it is slowly unraveled. 
As the literal storm of Chantal rages, personal storms brew all around these characters. Everyone has something to hide, and strong reasons to keep it that way. The powerful force of the weather casts everything asunder, yet despite it all,  the clean-up efforts bring out the nurturing and supporting force of this tight community to salvage friendship, forgiveness, and love in the most unlikely places. Though violet and fierce in nature, these devastating storms serve a terrifying reminder of how life-quenching they can be in the moment, while pregnant with possibly in the aftermath.
"All lost children deserve to be discovered."
Though I was slightly apprehensive about the missing child aspect given my highly empathetic nature and own small children, the author's masterful storytelling showcases just how frightening this situation can truly be, while also remaining respectful to the memories of the children who are never found or identified. 
While this one can definitely be read as a stand-alone, I would be remiss not to recommend starting from the beginning. The paranormal elements that surround Cassie are richly explained in the first book, making their presence in this book much more significant and understandable. And though he is only briefly mentioned in the first book, the story of "Barnacle Boy" comes full circle, allowing readers to bear complete witness to his tragic story. 
I really hope we see more from this series, as it continues to get better and better. A strong mystery, filled with hints of history, supernatural, suspense, and romance, there is so much to offer to a wide range of readers. 
And as a small side note, the covers of both books are absolutely gorgeous! It's difficult for me to recall a more perfect representation, highlighting both the eerie and captivating allure of Battersea Bluffs. Well done!
On the short walk to my car, a sparkle caught my eye on the ground near a temporary dumpster behind La Table, the new location of my old flame Billy Hughes's catering business.
     Later, I reflected on how different things would have been had I not been so curious.
What if
I hadn't had the dress fitting today?
What if
I hadn't parked in Archie's space?
What if
I hadn't gone out the back door of his shop?
What if
I hadn't gone over to examine what was glittering next to the dumpster?
     "The
what ifs
and
should haves
will eat your brain." It was a quote of John O'Callaghan's, from his book of poetry entitled,
Sincerely, John the Ghost
—ironically, a gift from Zoe, who'd always eschewed the notion of Percy's and Celeste's spirits.
     The point is, if I hadn't done all those things, then I wouldn't have seen that glint on the ground and gone over to check out what it was. Most crucially, I would never have noticed a hand through the rusted-out hole in the dumpster.
Five minutes later, Whale Rock Police Chief Brooks Kincaid's cruiser pulled up next to my Miata.
     "What's this all about?" he asked, whisking sandy-colored hair off his forehead in a lifelong habit.
     "I don't know, Chuckles." He responded with a stern look from my use of the nickname he so despised. It sprang from his famous belly laugh, for which he'd been mercilessly tormented as a child. These days, few dared to call the imposing man anything other than
Chief
or
sir
, but considering our long history, I was usually granted a pass when it slipped out.
     "Sorry," I mumbled, then pointed to the hole in the dumpster. "You tell me."
     He hiked up his khakis and crouched down for a closer look. "What the . . . ?" He stood and whipped out his phone. "I need a forensics team ASAP." After providing the pertinent details, he ended the call and then began taking photos of the scene.
     "You don't need to stick around," he told me as he unwound yellow crime scene tape. Just then, Billy Hughes popped his head out to see what was going on. He sent me a quizzical look, but it was Brooks who asked him, "How long has this dumpster been here?"
     "Can you get an exact date and time for me?"
     "Find out that information, and then we'll have a chat."
     I could tell Billy was taken aback, but he disappeared into his shop.
     "Do you think the ring's a clue?" I asked Brooks, who had slipped on a pair of gloves and was scooping it from the crushed shells of the alleyway into an evidence bag.
     "Maybe. Maybe not." He squinted up at me. "You didn't touch it, did you?"
     I took an involuntary step backward. "I know better than to mess with evidence." Though had I not seen the hand first, there's no question I would have picked up the shiny item that had caught my eye.
     Billy came out of his shop again. "I just spoke with the dumpster company and their records show a seven thirty delivery last Thursday morning."
     Brooks made a note of it in his small, worn notebook, then turned to me and said, "I'm sure you have better things to do."
     I did. However, staying here to find out who was in the dumpster was much more interesting.
     "Not really," I said as the county forensics van pulled up the alley, blocking me in. Brooks spent several minutes talking with a woman who, I presumed, was the head forensics investigator, while two men unloaded equipment and biohazard bags and donned protective gowns, goggles, and gloves.
     Billy and I silently looked on until Brooks remembered we were there. He returned to where we were standing, pointed directly at me, and said, "Go run an errand. I want you out of their hair."
     "Fine." I raised my hands in surrender. Brooks then patted Billy on the back and guided him into the shop, saying, "Let's you and me have a little talk."
     I leaned against the Miata, watching as old cabinets were lifted from the dumpster and contemplating where I could idle for an hour or so while the team did their work. I stalled as long as I dared, knowing Brooks would be livid if he found me still loitering at the scene when he came back out. My only exit was to walk around the crime scene, and there was just enough space for me to squeeze by the other side of the van. As I rounded the back of the vehicle, a bulky rolled-up rug, from which the dead hand appeared, was being lifted out of the dumpster. I held my breath, hoping Brooks wouldn't come out before I got a look at who was attached to that hand.
     "Come on," I whispered as the rug was slowly unrolled. Finally, one of the techs said, "Male."
     I stood on tiptoe, which bought me a glimpse of an unfamiliar face under a shock of platinum hair.
Thank God it's not anyone I know.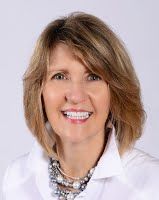 A true bibliophile, Loretta Marion's affection for the written word began in childhood and followed her like a shadow throughout her life as she crafted award-winning marketing and advertising copy and educational brochures. She then applied her writing skills as a volunteer, establishing a Legacy Story program for hospice patients, which inspired her to create her own fictional stories. Her debut novel, The Fool's Truth, is a twisty mystery set in Maine. Her Haunted Bluffs Mystery Series is set on Cape Cod and was introduced by Crooked Lane Books in 2018 beginning with HOUSE OF ASHES. Her newest release, STORM OF SECRETS, is the second book of the series.
When not whipping out words on her laptop, she is traveling, enjoying outdoor pursuits, or is curled up with a delicious new book. Loretta lives in Rhode Island with her husband, Geoffrey.
Many thanks to Great Escapes Blog Tours and the author! It was a pleasure reading, reviewing, and hosting! And be sure to check out the other stops on the tour for more opinions and extras!